Ace, 368 pages
February 2012
Mass Market Paperback, 978-0-425-25636-7
http://www.mykecole.com
Electronic Advanced Reading Copy (eARC) provided by Author/Publisher
Alan Bookbinder has been a pencil-pusher/desk jockey for most of his military career, achieving high administrative ranks. When he comes up as a Latent, showing magical abilities, Bookbinder's life as a bureaucrat takes a drastic shift, placing him in the world of the Source and away from his beloved family. Although he is hesitant to be put through this process, essentially turning the tables on him – once Alan could be considered a bean counter, now he is something of a bean. Yet, he gives into the process, he's "a good soldier." Contrast this to Oscar Britton's reluctance (to put it mildly) with becoming merely a weapon for the government in the first novel in the series Control Point. It will be difficult for me to continue the review of this book without drawing comparisons to Oscar Britton. However, Myke has made Fortress Frontier fully accessible to new readers.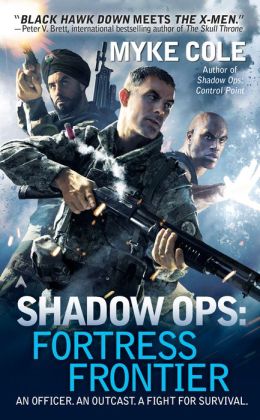 Thus begins Fortress Frontier the second installment of Myke Cole's genre bending Shadow OPS military fantasy series. Smartly, he lulls the reader in with a scenario with a similar framework to the one utilized in Control Point (oh no, I'm one of THEM!) and begins to wear away that familiarity in a number of ways, not the least of which is how a person manages to both fear the system controlling their destiny while still working within it.
In being assigned to the Forward Operating Base (FOB) Frontier in the world of magic, Bookbinder's story intersects very quickly with Oscar Britton's story, specifically the moments when Oscar flees the fortress and goes rogue. Oscar's actions cause the FOB to be cut off from the home plane, something of a sidebar in Control Point but which takes front-and-center position as a major driving force of the plot. Bad goes to worse when a goblin tribe attacks the severely undersupplied FOB killing Bookbinder's superior and forcing Bookbinder to become the acting head of FOB. Bookbinder's magical powers emerging and his ascension to the head of the FOB occurs in just the first third of the novel. In other words, Cole packs a great deal of story into the novel, I found myself drawn into the story immediately.
Another thing Cole does in Fortress Frontier is to expand the borders beyond just the US military. When Bookbinder is introduced, it isn't long after that readers are introduced to a contingent from the Indian military and his liaison to the Source, a Naga, a many-headed snake/serpent. Specifically, a Prince to the throne of the Naga people whom Bookbinder basically begs for assistance in getting back to Earth. There's a certain resonance to Bookbinder's situation to the situation in which Tony Stark finds himself in the first Iron Man film when he is tasked with building missiles for who he thought was an enemy. As the final third of the novel progress, the strength of these scenes is in their plausibility and the manner in which Bookbinder handles the stresses and problems thrown before him.
Whereas the majority of Control Point was told from Oscar's point-of-view, only about 2/3 to ½ of Fortress Frontier is told from Bookbinder's point-of-view. As I intimated, Oscar is not forgotten and some of the other POV scenes are through him, as well as a character familiar to both Oscar and readers who enjoyed Control Point. So, in short, Cole has admirably widened the geopolitical scope of his world in addition to increasing the character lenses through which we as the readers can view this world – a natural and impressive progression. The strength here is that character and world-building are equal parts of the whole and one's development does not suffer from the growth of the other.
I thought Control Point was the most impressive 2012 debut novel I read and what's even more impressive with Fortress Frontier is that Cole's storytelling skills and writing have improved from an already solid base. I believe and empathize with his characters and I cannot wait to read more about the fantastic world at which we've only glimpsed in these two books. I, and Myke's growing legion of readers, am in for a treat because Myke was recently given the green light (i.e. contracts) for three more books to be set in the same world. Myke is a great storyteller and writer who deserves a large readership because he's making a stew of a story with familiar ingredients but with an execution that hasn't been overdone in the genre. In short, a perfect balance of familiar and ingeniously new. Considering Fortress Frontier is one of the first 2013 releases I've read, the bar is set VERY high for the year.
Highest Recommendation.
© 2013 Rob H. Bedford