Interview with R.T. Kaelin

(2012-12-17)
Visit R.T. Kaelin's web site here: http://www.rtkaelin.com/
Donate through Triumph over Tragedy here: http://www.indiegogo.com/TriumphOverTragedy
For the uninitiated, give a snapshot of Triumph over Tragedy and how you came to be involved with the project. You live in Ohio what about this disaster – that struck nearly half-a-nation away – compelled you to put together the anthology?
In the days immediately following Hurricane Sandy, I found myself both awed and saddened by the devastation I saw on the news. In the past, I've donated money for various relief efforts, but the gesture always felt somewhat hollow to me. Disasters have ripped apart people's lives and homes, and here I am, sitting on my couch in my nice, warm living room, donating a measly fifty bucks.
I wanted to do more, to give more, but my familial obligations precluded me from physically going to help while economic constraints prevented me from giving more.
That's when inspiration struck.
I'm an indie author (at the moment) and have enjoyed some success. My novels have been floating around the top 100 bestselling Historical Fantasy at Amazon for a while now.
In recent years, I've attended a few conventions as an author and made some professional connections. I reached out to a number of authors I knew, inquiring if they would like to donate a short story to an anthology, the proceeds of which would all go to Sandy relief.
A bunch said yes, emailed their contacts, and…well, things sort of took off after that. Turns out, people like helping people.
Which author are you most pleased and most surprised to receive a story from for the anthology?
Sorry. But with a few Hugo award winners, a Nebula award winner, a couple NYT bestsellers, a fantasy legend, and a couple hot names of the present, I can't pick just one.
Silverberg was a big surprise for sure. As was getting a story entirely out of the blue from the Marion Zimmer Bradley's Literary Trust. Elizabeth Bear, Timothy Zahn, Tobias Buckell, Michael A. Stackpole, Michael J. Sullivan…
On what other projects are you working/editing?
My own.
Prophecy, which is Volume II in my debut series The Children of the White Lions, came out at the end of September and promptly hit #9 on the Historical Fantasy bestsellers list at Amazon. I had no time to enjoy, however, as within a week I was getting emails: "when's book three?"
I'm working on it…really. I wish I could write at 1/100th the speed some people read. Currently, I'm at 128k words, which is slightly past the halfway point. A big book, you say? Yes, but I like big books (as long as they're good), so that's what I'm writing.
I have two other things going, too. One is an entirely separate novel that has been knocking around in my head for a while now for which I finally wrote some chapters. The other thing is super-secret that I can't tell anyone about. Seriously, I signed a NDA and everything.
What can you tell us about yourself and why you've become so enamored of Speculative Fiction?
Write what you know, yes? Well, I've always enjoyed reading fantasy, so…
When I was younger, I read Tolkien, of course. T.H. White, too, and others. When I was in high school, I read Magician: Apprentice by Raymond Feist and really enjoyed it (along with the other three books of that series).
As time passed—I went to college, graduated, got a job, got married, had kids—my free time evaporated and I stopped reading. A few years back, my family and I were going on vacation, and I went to the book store to get something to read for the trip. I stumbled over Magician by Feist, remembered liking it when I was younger, and bought it. I breezed through it (and the other three books of the series, again), and then discovered that Feist had written numerous more books set in the world of Midkemia. I made time in my life to read again (farewell, television) and read them all, after which I moved onto some other authors. Some I liked, some I did not.
After three bad books in a row—predictable plots, stereotypical characters—I commented to myself that "I could do better than that." I challenged myself to try, and here we go. It's been a learning experience, I've made a lot of mistakes (if anyone finds a first edition of Progeny, you'll see them all), but I wouldn't be where I am now without them.
How long did it take you to finish Progeny from thoughts about what you wanted to write to the current version?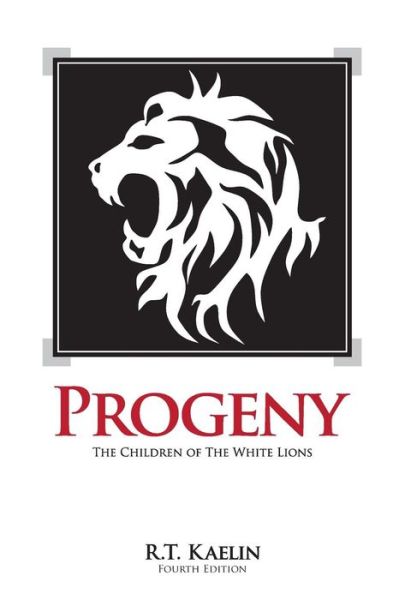 From the moment I decided to write to when the first edition was done, about a year. Mind you, I did all my writing in the evening and on weekends. When I was done, I had produced a 312k word behemoth of a book in a vacuum where I was utterly ignorant of the market and publishing industry, Turns out, no one wants to take a chance on an unknown whose first novel could double as a doorstop. Oh, that and the writing needed work, something I didn't know that at the time.
I self-pubbed and, amazingly, began to build a readership. That edition had been out for a while and I was working on the sequel when the opportunity to get Progeny in front of a big agent presented itself. I sent it off, as is, and waited.
A couple months later, I got a polite 'no, thanks' back along with a list of reasons why. Realizing I agreed with most of them, I set aside Prophecy and started to re-edit Progeny. My craft had improved since I had started writing, although I still had more to learn ( hindsight is 20/20 and all that). In the end, I cut 50k in length while actually adding a few necessary chapters. That was Second Edition.
Proud of that, I queried a bunch of agents (in which I included my book sales and marketing efforts), had a number ask for the manuscript, and sent it off. Some offered representation, some said no. One agent—who I really, really wanted—liked the portion he saw, but said it was overwritten (still) and didn't have time to go through the whole thing to see if he could fix it. He said if I waited a few months on my decision, he'd give it a shot. I, of course, said yes.
I took yet another look at the manuscript and realized that, yes, there was still a lot of fluff. So, I edited it. Again.
And cut more words. Again. 20k this time.
That edition, the third, is currently available.
If you were to start from when the book was just an inkling of a thought to its current state, about two-and-a-half years passed. Of course, in that time, I also wrote the sequel and fifteen short stories that, if added up, are another full-length novel.
With two books in the series thus far published and a number of shorter stories, which of the two do you find more rewarding?
The series. The shorts were fun, and actually helped me solidify some details and background (they're all prequels to the series), but journeying through the series is the fun part. It's an epic story, and I don't use that word lightly. Progeny starts out with three kids, their entire world more or less the village in which they grew up. By the end of Prophecy, they are so far removed from that place—in every sense you can imagine—it's strange to think of them ever being there to start. Each book opens the world—and them—up a little more, forcing them grow and adapt.
I've always known the arc of the series, what generally happens in each book, but I'm constantly surprised where the characters take me as I write. Some storylines wrote themselves.
How many novels will you be writing in The Children of the White Lions series?
The plan was four. But halfway through Progeny, I adjusted my plans to five. Halfway through writing book three, and I'm still set on five.
Being a father with a full time job, your wife must be supportive of your writing endeavors. How do you find the time to write and work onTriumph over Tragedy?
I have no idea.
My writing has definitely slowed while working on the anthology. I only have about four hours a day to spend on editing/writing, after kids are in bed and while my wife works on her nursing paperwork.
That being said, I still write. I am compelled to write. Sounds a little silly, but I don't know how else to explain it. I have a half-finished novel (and series), begging me to bring it to a conclusion. There are storylines in there I want to see play out, scenes I can picture in my head that I need to put on paper, conversations that I have been setting up since the early chapters of Progeny that I can't wait to write.
If you love something enough, you find the time.
Outside of SFF/Speculative Fiction and perhaps even in direct contrast to SFF, what are some hobbies?
What's a hobby?
Honestly, I don't have much time for them anymore. Writing started out as a hobby, but that's no longer the case.
I'm a Cincinnati native, so I'm a Reds and Bengals fan, although I get to watch fewer games than I used to. Our family got a puppy a few months back, so the kids, wife, and I like taking him to the dog park (he's a Lhasa Apso, but likes running with the big dogs). My wife and I ride motorcycles, Harleys, which also happens to be the name of our dog (minus the 's').
Other than that, not much. There simply are not enough hours in the day.
Thanks for the questions! And don't forget to check out the Triumph Over Tragedy anthology! Almost 40 stories and 180k words of awesome!
Visit R.T. Kaelin's web site here: http://www.rtkaelin.com/
Donate through Triumph over Tragedy here: http://www.indiegogo.com/TriumphOverTragedy