Locke Lamora and Jean Tannan are thieves, brothers from another mother, best friends; they are Gentlemen Bastards. Following the events in Red Seas under Red Skies, Scott Lynch's third Gentleman Bastard novel The Republic of Thieves fully introduces a character whose shadow has long cast itself on Locke (and the series): Sabetha, the lone female of the Gentlemen Bastards.  What ensues is a dual storyline of the first caper in which all of the Bastards become embroiled (which occurs before the events of The Lies of Locke Lamora) outside of their mentor Chains's oversight and Locke and Jean battling Sabetha in a political scheme of wits. In short, The Republic of Thieves is the story of a con games layered upon con games, being controlled by a game of powerful players in their own con game.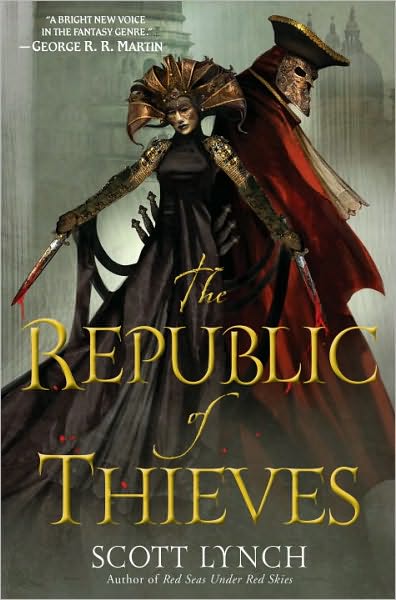 The main storyline involves Locke's recovery from a severe poisoning, through the help of the powerful Bondsmagi (sort of like demi-god wizards) named Patience.  The price of that cleansing is maneuvering the Local elections to produce an outcome that is beneficial to one of two factions of the Bondsmagi.  Locke's opponent is his lost love Sabetha, who Locke hasn't seen in years. So on one side, you've got Locke and Jean Tannen, and on the other Sabetha.  Part of what makes this such an enthralling enterprise for Locke (and the reader) is the long-awaiting (awaited) chance to see Sabetha.  Before they actually see each other; however, their cons begin and as the story progresses, Lynch builds a great deal of tension – dramatic, sexual, and altogether addictively frustrating – between the two former lovers and partners.  They've been instructed by their Bondsmagi masters to not team up with each other against the Bondsmagi, but that doesn't stop them from meeting with one another on several occasions.  These meetings between Sabetha and Locke are fraught with a tense thin line between Sabetha and Locke that divides the truth from both characters from trying to con each other. In point of fact, the election could have easily been called the Macguffin election since it serves more of a thing to get Sabetha and Locke (and Jean to a lesser extent) reunited and shine as characters rather than having an immediate effect on their world.
In parallel, Chains has become frustrated with his young thieves, and feels he's taught them enough that they can be on their own. So, the full squad of the Gentlemen Bastards is instructed to visit one of Chains's former companions, a playwright.  What the Bastards did not expect was to find said playwright in prison.  So before their 'mission' proper can even begin, our heroes find themselves involved in pre-caper, if you will, to extract this high-minded artiste out of prison. Through this narrative we get to know the Sabatha-Locke relationship in fuller (though not complete) detail, as it begins with a longing and near worship on the part of Locke to a full blown romance/relationship between the two.  Lynch also reveals just how Locke ascended to leadership of the Bastards.
Meanwhile, in the current events of the novel, Locke agrees to the aforementioned healing from the Bondsmagi named Patience and bickers, snarks all the way through his conversations with her. She appears at inconvenient moments, which elicits more snark and biting comments from Locke, and to a lesser extent, Jean.  We even get a peek into Bondsmagi culture through small chapters Lynch calls interludes.  The game they are playing against each other through the pawns of Locke/Jean and Sabetha seems to have far ranging consequences for them and their place in Therrin, the world in which the novel takes place though the immediacy of that is not fully exposed. Patience also reveals previously unknown backstory of the Falconer, whom Jean and Locke brought down in the first novel in the sequence. , The Lies of Locke Lamora. More important are the revelations about Locke himself, his mysterious past prior to fully coming into the protection of his mentor Chains, that come to light through Patience's words.  This revelation could be the lynchpin (no pun on the author's name intended) upon which the remainder of the series turns. If nothing else, it proves great food for thought about the previous volumes and raises the level of anticipation for future volumes in the Gentleman Bastard sequence.
I've gone through this review without mentioning the outside forces surrounding this book; that is to say the details of the publication delays which are well documented in various genre forums.  Suffice it to say, it has been quite a while since we've heard Locke's voice and an even greater length of time and dramatic build-up to meeting Sabetha.  With or without the delays, The Republic of Thieves would have been a highly anticipated novel by many, so it had a great deal of expectations (perhaps unfairly) to meet. So, how did Mr. Lynch meet those expectations? For the most part, those expectations were met quite well indeed.
Regarding this reader's reunion with Locke and Jean, it is a welcome return, through the three installments in The Gentleman Bastard sequence, Lynch's greatest strength was in the snarky, wise-ass character of Locke himself. His interactions/reactions to his companions, and to other characters brings a smile to my face.  Locke's tenacity and sheer cleverness are forces of nature that drive events and the characters.
Sabetha (Beth) was an entirely different matter and in many regards, she may have exceeded expectations.  She was a frustrating foil for Locke, both on a romantic and intellectual level. In many ways, she is smarter and more refined (for lack of a better word) than Locke. Her effect on Locke is almost too powerful, he becomes something of a mush both in her presence and when he tries to plan around her outside of her presence.  He almost becomes lesser of a character, but for all his puppy-dog swooning, in the long run of the long game (and it is very clear in this volume that Lynch is playing a very long game) that perceived weakness turns to a strength.
Lynch has employed this parallel storytelling device in the previous Gentleman Bastard books and it has been very effective.  The formula works here, though perhaps it wasn't quite as effective as I remembered it being especially in Red Seas under Red Skies. It was great to reacquaint with Chains, Calo and Galdo and to see the early days of the Jean/Locke bromance, but I felt the storyline involving the troupe were a bit meandering, overlong and bordering on indulgent. The scenes not directly focused on Jean/Locke/Sabetha watered down the effectiveness of the novel as a whole so if anything, some of the twists, turns and cons of the "past" could have been trimmed down.
All told, The Republic of Thieves is likely to please the many readers who are anticipating a return to Lynch's voice and characters. Despite feeling the novel could use some trimming here and there, I thoroughly enjoyed it; it was fun and great entertainment.  For if the novel doesn't entertain, than it has failed so in that regard The Republic of Thieves is a success. Locke Lamora is proving to be one of the most engaging and enigmatic characters in fantasy, reading his voice is pure delight. The hints and foundations Lynch set down here in the third volume have, as I said, only raised my anticipation for the next novel in the sequence, The Thorn of Emberlain, for which I hope we as readers don't have to wait as we readers did the wait between The Republic of Thieves and Red Seas Under Red Skies.
Recommended.
© Rob H. Bedford
Review Copy (eArc) courtesy of the publisher Del Rey www.delreybooks.com
Hardcover 978-0-553-80469-0 pages October 8, 2013
http://www.scottlynch.us
Excerpts: http://www.scottlynch.us/excerpts.html